...
Mt Rufus has some good terrain and gets a reasonable amount of snow. It was considered as a place for a ski resort in the 50s, but measurement of the snow showed it wasn't reliable enough.
The two main tracks start at Lake St Clair, it takes about 3 hours

to the snow line. The direct track (southern-most of these ) climbs a a wide east facing slope which generally seems to hold the best snow on the mountain. It offers some steep turns at the top and a long run down through the trees to at the base. Watch out for cornices at the top as avalanches have occurred here.  
...
There is good skiing over the Eliza Plateau, however it is quite exposed. Its about 2-3 hours solid walk to gain the altitude. The base of summit block can be reached in another couple of hours of easy skinning. While there are no feasible lines down from the summit (for anyone who values their life) there are several truly spectacular lines that drop down the huge south-east facing bowl between Shelf Camp and the summit block. The most obvious of these starts at the junction between the summit track and the circuit track and heads steeply down towards a vertical sided chute just visible from the top. One inside the chute, which is dead straight and more like a slot canyon, you can continue on for several hundred meters. This is only achievable in excellent snow conditions.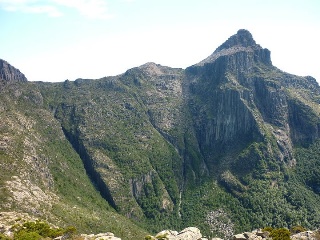 Image Added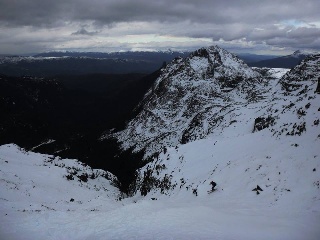 Image Added
It also looks like there's a nice chute directly below the summit block (the climber's descent route), which goes for a couple of hundred meters before it ends in cliffs.   
There are some shots of Mt Anne under snow here: Mt Anne Gallery.
...
Chaining up on the drive in.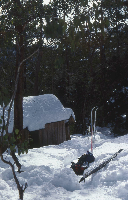 The Trapper's Hut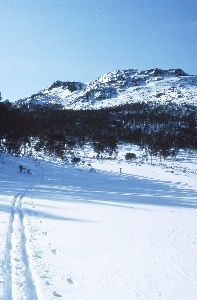 Looking towards West Wall
...
Crossing Lake Salome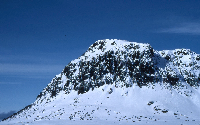 West Wall
Frenchman's Cap
Frenchmans Cap requires a lot of effort (even with the improved track) but offers some big, technical lines with a serious mountaineering feel. Lake Tahune hut can be reached in a day, or more comfortably two, which would be advisable after recent snow. There is a lot of low branch limbo-ing to be had on the climb up to Barrons Pass and very little opportunity for skinning given the rugged nature of the track. Skins are probably best left at home in fact. The face/bowl above Lake Tahune has the most obvious and less extreme skiing, but it is still incredibly steep at the top, and in icy conditions it could be quite dangerous. There are gentler, expansive snow fields on the eastern side of the summit, but connecting these with the Lake Tahune face would require some very tight, technical and insanely exposed skiing. It would however, provide an uninterrupted 450m vertical descent through stunningly rugged terrain. There may also be possible skiing around Lion's Head, and even out towards Clytemenstra.    
Snowy Range
TODO
Links