Skip to end of metadata
Go to start of metadata
Mt Murchisnon, West Coast
I will soon add a little thesarvo guide entry for this mountain, which will include an access topo and some other routes from past epochs.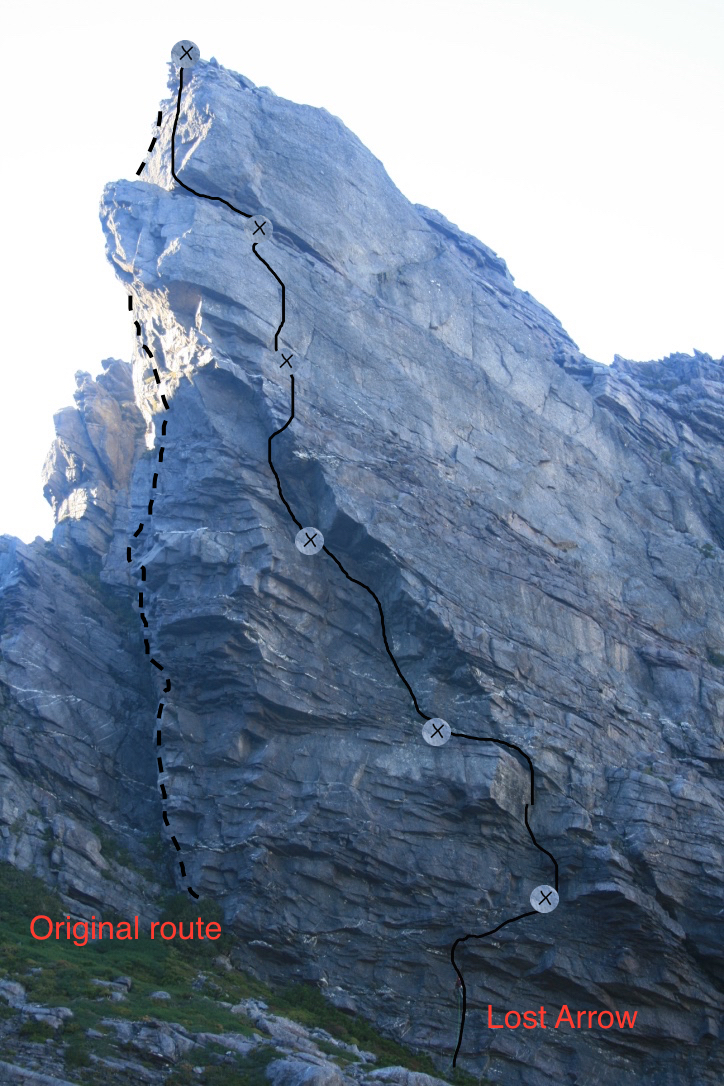 E Lucevan Le Stele.
This is the large north-facing buttress inside the Mt Murchison Crater. Access: follow Mt M summit track then descend to small hanging lake inside the crater, 300m altitude below summit trig. Descent via walk off down wide gully 50m east of Acrasia; OR abseil from bollard into narrow gully 25m east of Acrasia (one 50m abseil into gully, then another 50m abseil down steep gully).
Acrasia (aka 'Original Route') 130m Grade 18 **
Takes the walls and roofs 50m left of Lost Arrow corner.
Rack: standard traditional rack.
Start: The narrow arête on the far left side of ELLS buttress.
40m 17. Climb up on arête for 5m then transition to the left wall and up this for 15m following left leaning crack line until it finishes at right leading horizontal weakness. Traverse right back to arête (crux), then up through small overhangs right of arête to belay on ledge among overhangs.
45m 18. Up corner systems leading towards large blank roof, but tend diagonally left 5m prior to roof heading to weakness where roof is only 0.5m wide (4m run-out). Gear at roof, through this (crux) then up wall to large ledge (possible belay). Off ledge up 3m crack to small roof, but traverse left 3m to avoid it.  Up steep wall above (on intermittent cracks, 5m left of large unattractive corner), until a move right into upper section of large corner is possible. Up this 5m to large ledge below overhangs.
40m 16. Up right of overhangs then on to top.
Hamish Jackson and Shumita Joseph Feb 2016
Lost Arrow 200m grade 25 ***
This climb was established ground up in one 11 hour push.
Climbs the large, over hanging diagonal corner that splits the prow of the E Lucevan Le Stele. Overhangs about 20m over the first 100m of climbing. Generally excellent rock that accepts good protection.
Rack: generous traditional rack to #3 Camelot size, including 5-10 small cams and 15 extendable draws. Double ropes essential.
Start: approx. 50m right of Acrasia below the weakness through overhang 15m above.
30m 24 Steep and sustained, a tad intimidating. Up wall then through 4m roof via right leading horizontal flake. Up and left of hanging block (could not be budged), then right along ledge to belay.
20m 22. Up overhanging corner with increasing difficulty (+ damp after rain on FA), then exit left along large diagonal. Belay at base of major corner.
25m 20. Up steep corner and cracks, then left along easy diagonal to belay 5m under next hanging corner.
40m 25 Extremely exposed and very difficult. Up wall (2m wet patch on FA) to small roof, then through this with difficulty tending left. (Small cams may allow aid though this crux 22 A2?). Continue steeply to upper corner above quartzite band, to find the unlikely traverse across overhanging wall to right arête, and then up easily to large ledge.
25m 22. Exposed and technical conglomerate wall climbing. Head up short wall then traverse right 2m to base of corner, then up corner strenuously. As corner ends, follow a faint weakness up and left to gain a thin diagonal crack that leads back right to another large ledge. Phew.
45m. Up easier slab left of arête.
Adam Donoghue and Hamish Jackson (var). 22/1/17